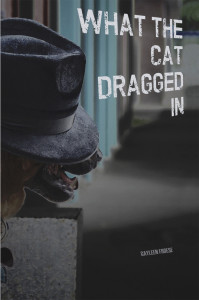 The Asp is pleased to announce the release of our second title, released today in paperback from The ASP here.
It can also be purchased as an ebook here, here, or at any of Amazon's international affiliates.
What the Cat Dragged In by Gayleen Froese is a children's book written in such a way that it has just as much to offer adults.
Spenser T. Dog is a German Shepherd with a 100 pound imagination and time on his paws. From his office in the dining room, next to the place the balls roll under, Spenser sniffs out a case that involves a peanut butter sandwich heist and a feline femme fatale. His papillon secretary and scruffy informant next door help him in his eternal quest to prove that, in a morally complicated world, he really is a good dog.
Look forward to an interview with Gayleen in the near future to discuss Spenser, and his adventure.