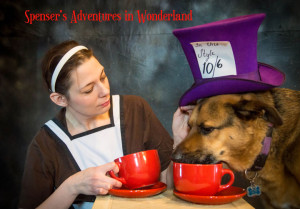 Good morning everyone.  First things first, the 50 Shades of Spenny Contest is now over, and the prize of a signed copy of What The Cat Dragged In (and something special, will be awarded to….Kim Johnson and her boy Chewie.  Congratulations.
Also, I'm happy to show Day 2 of our promised photoshoot.  For the next several days, as fulfillment of a sales contest, Gayleen Froese (author of What The Cat Dragged In) and Spenser Q. Dog (main character of What The Cat Dragged In), are reenacting several famous novels.
Today Gayleen plays the part of Alice, and Spenser, the Mad Hatter.
Enjoy.
If you've not purchased your own copy of the book, well, honestly, what is wrong with you?  It's an awesome Noir mystery, that happens to star a dog.
Go here, and do so.
And hey, buy the Laird's too.  Why not?