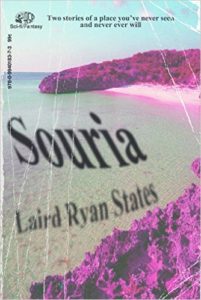 Souria, the second ASP release from Laird Ryan States is a collection of two short stories in his Sel Souris cycle.
Fear and Loathing is the tale of the meeting of Raoul Duke and Mr. William Lee as they vacation on the island, in search of freedom and the ultimate high.
The Irresponsible Journey is a travelogue recording a visit to the island by Ryan States, a part-time author who skips off work for a week to visit Sel Souris, a place of myth, and to meet a piece of his family he has never known.
Both stories function as pastiche and as a glimpse into the mind and literary loves of the author.
Funny, moving, strange, and lovely, Souria is an excellent introduction to the writing of Laird Ryan States.
Souria can be purchased here on Amazon.com or here on Amazon.ca.  It is available as well through all international Amazon markets.
You can also buy Souria in print here, at Lulu.