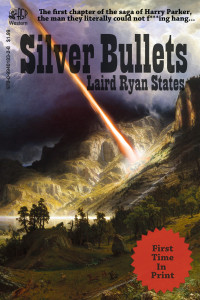 The Asp is pleased to announce our first official release, Silver Bullets by Laird Ryan States.  It is available for purchase as an e-book through Amazon, and its international affiliates, and we will be officially announcing print on demand paperback sales within the next couple of weeks.
Silver Bullets is a weird western, with crossover elements and allusions to other literary works.  It is the first in a planned series of New-Pulp novellas.
If you can suggest any reviewers that we should send review copies to, let us know.  If you have any questions, feel free to ask.
We expect to post an interview with the Laird in the near future to discuss the book, and the future of the series.