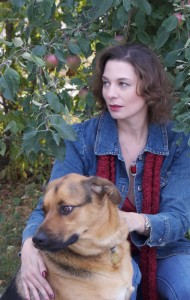 The ASP:  What The Cat Dragged In is narrated by Spenser, who is a dog.  That can be really twee, but that absolutely isn't the case here.  What was your approach, and how do you think you dodged that bullet?
Gayleen Froese:  I decided to make this a proper noir mystery. The humour comes from the fact that this straight-faced book, with all the betrayal and moral slippage of noir, is about a bunch of animals and peanut butter sandwiches. There's no need to get cute beyond that.
The ASP:  What or who was your inspiration to write this book?
Gayleen Froese: A few people had recommended to me that I write about my pets. I didn't want to do a  Marley and Me kind of book. I wasn't sure people would want to read a book about  my dogs when they could instead be playing with their own dogs. But the idea of taking something of my pets' personalities and relationships and building a genre story around that sounded fun. 
The ASP:  Spenser is, of course, your actual dog.  How much of your actual dog made it to the page.
Gayleen Froese:  Spenser is part of everything in my life, because shepherds shed like crazy and, once you own one, you can't have an experience that doesn't include their hair. 
In terms of whether his personality made it to the book, I think it did. This is a dog who walks me to and from the garage when it's dark and watches me like a lifeguard when I'm swimming. When new people come to our house, he escorts them to and from the washroom to make sure they behave while they're upstairs. He assumes a lot of responsibility for keeping his world in order. 
Also, he's much too friendly with the neighbour's cat.
The ASP:  This book shortlisted in the 2010 3-Day Novel Contest.  Did you enjoy that experience?
Gayleen Froese:  It's a good challenge in the sense that it teaches you things about your strengths and weaknesses as a writer and you have a legitimate sense of accomplishment when you're done. More than anything, I think being forced to put around 30,000 words to paper in three days makes you get out of your own way. You don't have time to question the very idea of writing or revise the same paragraph a hundred times. 
That said, one of the harder lessons in my life has been that I there's only so far I can push myself. It's exhausting to focus on a puzzle as difficult as a novel(la) for three straight days. If you don't believe me, try it. 
To be honest, I do think anyone who's interested in writing should try it at least once. But I have done it, so, these days, I save that energy for whatever novel I'm working on. 
The ASP:  Where do you get your ideas?  Just kidding.  Who would you say is the writer that had the most influence on you, and why?
Gayleen Froese: I think detective fiction in general has influenced me because it goes after who we are, who we want to be and how people live… but it doesn't crawl into its own navel. There's dialogue and character and plot and motion instead of endless rumination or three page descriptions of a violet on a stone. 
Because I grew up reading Rex Stout and Dashiell Hammett and Ross Macdonald and Robert B. Parker, I knew big questions could be tackled in the middle of a good story… so that became what I wanted to do.