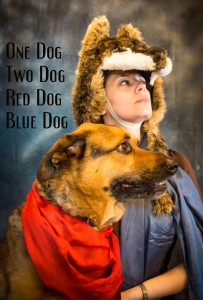 Good Morning, Internet.  Bienvenidos a Day 4 of of the 50 Shades of Spenny Photoshoot.  As the reward for a sales contest, Gayleen Froese and her dog Spenser (the author of, and star of What The Cat Dragged In, our latest release from The ASP) are taking seven photos of themselves enacting famous books.
Today they are either re-enacting the Dr. Seuss classic, One Dog Two Dog, Red Dog Blue Dog, or a mid 80's synth band album cover.  You be the judge.
If you have yet to buy her rather wonderful little tale, Spenser thinks you should go here and do that.
While you're here on the site, you should buy mine as well, and just look around.
That dog has loads of opinions.  I'm just his puppet.