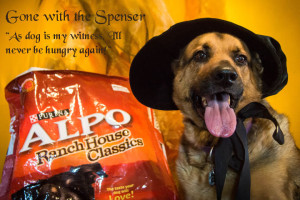 It's Day Seven, and the end, of the 50 Shades of Spenser Contest
As the reward for a sales contest, Gayleen Froese, and her dog Spenser (the author of, and star of What The Cat Dragged In, our latest release from The ASP) are taking seven photos of themselves enacting famous books.
Today, Spenser portrays Scarlett O'Hara in Gone With the WindWe at The ASP, would like to thank everyone who participated in this little bit of fun, and again, our thanks to Val and Iain Little of the Clown Cartel, for their amazing assistance  with the shoot.
If you have yet to buy the book, I would suggest that you should go here: https://theasp.ca/?page_id=100 and do so.