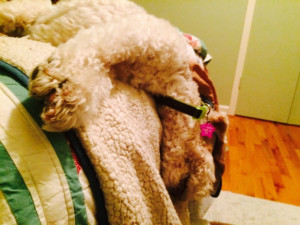 Continuing our contest for 50 Shades of Spenny, here's a photo from Chris Johnson of his dog Bailey as Asta from the Thin Man movies, all dragged out after a bender
If you want to send in a photo of your pet dressed as a fictional character, you can send it to theaspbooks@gmail.com You have until midnight Monday.  We'll be posting all the entries, and the winner for best entry will receive a signed copy of  Gayleen Froese's new book What The Cat Dragged In, plus something special.
You can buy the book by going here.
Starting Monday, we'll also be posting pictures of Gayleen and Spenser from some of their favourite novels.