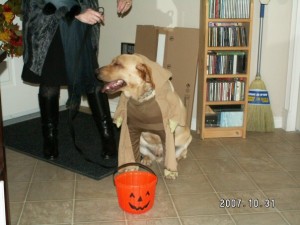 Once again, continuing our contest for 50 Shades of Spenny, here's a photo from Kim Johnson of her dog Chewie as a Jedi Knight.
If you want to send in a photo of your pet dressed as a fictional character, you can send it to
[email protected]
You have until midnight Monday.
We'll be posting all the entries, and the winner for best entry will receive a signed copy of  Gayleen Froese's new book What The Cat Dragged In, plus something special.
You can buy the book by going 
here
.
Starting Monday, we'll also be posting pictures of Gayleen and Spenser from some of their favourite novels.