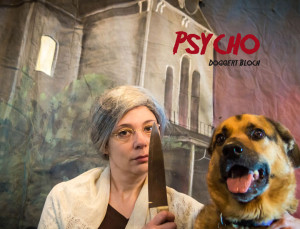 It gives me great pleasure to present the first in the seven photo shoot for 50 Shades of Spenny.  About a week ago, Gayleen Froese and Spenser agreed to take a photo of themselves re-enacting a famous novel (and NOT, he said, under threat of violence, a favorite), for every copy of What The Cat Dragged In sold in a short period of time.This is her making good on that promise.
Today we show Gayleen and Spenser as Mrs, and Norman Bates.
If you like this shot, and haven't bought it yet, you should definitely read Spenser's first case in What The Cat Dragged In, available from The ASP
here
.
While you're here, have a look around.  Buy my book also.
I'm not proud.  I'll shill.  Watch me shill.
Oh, and, my god, we so could not have done this so well without the assistance of Val and Iain Little and the
Clown Cartel